I came up with this awesomely flavorful Chicken Alfredo Lasagna tonight and thought I'd be sweet and share! The best part about preparing it is that you don't have to cook the noodles first~~The best part about eating it is...Everything!
Chicken Alfredo Lasagna
10-15 uncooked lasagna noodles
16 oz. white Alfredo pasta sauce
1/4 c. milk
1 tsp. dried oregano leaves
1 tsp. dried basil leaves (or fresh is good too)
3 c. cooked, cubed chicken
14 oz. canned artichoke hearts
1/2 red bell pepper, diced
1/2 onion, diced
3 garlic cloves, minced
12 oz. mozzarella cheese
8 oz. crumbled feta cheese
2 c. spinach leaves
Preheat oven to 375. In one bowl, combine Alfredo sauce and herbs. Pour milk into empty sauce jar and fill the rest of the way with water. Put the lid on tight and shake well; add to mixture and set aside. Chop chicken and vegetables (except spinach) and put in a separate bowl. Add garlic and cheeses; mix well. Spread 1/3 of sauce on the bottom of a 13x9 pan. Layer noodles across bottom and push into sauce. Top lightly with 1/2 of spinach:
Top with 1/2 of chicken mixture. Repeat layers, starting with 1/2 of the remaining sauce and ending with sauce. Cover with aluminum foil and bake about 1 hour or until noodles are soft. When you remove it from the oven, it will look like a casserole:
Let it sit for about 15 minutes while it thickens and becomes easier to serve. This is great with Ciabatta bread and salad. Yum!
Did you know my

March Giveaway Jubilee

is going on RIGHT NOW? Did you know I'm giving away 4 great prizes (one of them being a Etsy-wide gift certificate)!! There are others who are offering giveaways too. Click the button below to check it out and YOU could be a winner! :)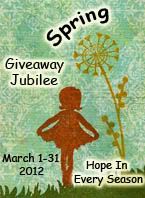 So...now it's time for the Homemaking Link-Up Weekend! Several people have asked me if their post "counts" as homemaking. When I set up this party, I tried to pick a very broad topic. To me, anything you do that has even the remotest connection to your home/family/food/gifts/yard/crafts ETC is acceptable. In fact, anything is acceptable...as long as it's not X-rated! So, join up! I'd love to have you!
Also linking with:
BNC's Project Party Weekend
Homemaking Link-Up
L.A.C.E. Wednesday
A Wise Woman Builds Her Home
Church Supper @ Every

day Mom's Meals