Pin It
Yesterday I showed off my hutch makeover and some of the cute accessories I've been making this past week. This book bundle is so easy to make so I want to share the simple steps with you!
First, I hit my local Dollar Tree to find some books that were all the same size. I checked under the dust jackets to see what color the hardbound books were. Lucky for me, these were a perfect shade of cream!
Next, I chose a picture from Google Images. I knew I wanted to do something with either a bird theme and a Paris theme. I found an image with both! Then I picked out my paper. My husband had got me this cute vintage-look paper for Mother's Day but it was too thick. So, I photocopied five sheets of it and then printed my image over it. I think these colors are so pretty: a cream background with pretty

PINK

flower bundles!
I measured the width of my book spine and then multiplied that by 3. Mine were about an inch wide so that made it easy. I just drew 1 inch vertical lines on the back of each paper and then cut out a strip from each paper that was 3 inches wide, moving over 1 for each new paper. Then I used my favorite crafting supply, Elmer's Craft Bond Extra Strength Glue Stick, to secure the pieces to the binding of each book.
Did you know my March Giveaway Jubilee is going on RIGHT NOW? Did you know I'm giving away 4 great prizes (one of them being a Etsy-wide gift certificate)!! There are others who are offering giveaways too and more will join up throughout the month. Click the button below to check it out and YOU could be a winner! :)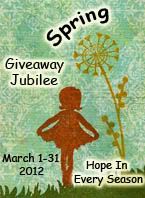 So...now it's time for the Homemaking Link-Up Weekend! Several people have asked me if their post "counts" as homemaking. When I set up this party, I tried to pick a very broad topic. To me, anything you do that has even the remotest connection to your home/family/food/gifts/yard/crafts ETC is acceptable. In fact, anything is acceptable...as long as it's not X-rated! So, join up! I'd love to have you!
Also linking with: Whimsical Wednesdays @ AudraSilva.com