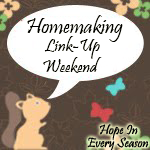 It's the weekend!! What's your favorite part about the weekend? I love weekends most because that's when my husband is off work and we can have family time~~Yay!
One of our family's favorite places to eat out is
Subway®
. We love it that we can always find something fresh and healthy there! I've come up with a few "
Sorta-Subway®" recipes that I thought I'd share with you all in a series.
The first in the series is my recipe for Sorta-
Subway® Oatmeal Raisin Cookies. These are crunchy on the outside, chewy on the inside and SUPER yummy!
After you're finished drooling over the recipe, please link up any and all Homemaking-related posts below. It's time for my Homemaking Link-Up Weekend and I'm excited to see what everyone's got to share! I'm planning on featuring my favorite posts each week so show me your stuff! Also, please take a button from my sidebar to advertise the linkup. Textual links are fine too!
Sorta-
Subway® Oatmeal Raisin Cookies
1 cup butter 1 cup brown sugar
1 cup sugar 1 tsp. vanilla
1 tsp. salt 1 tsp. baking soda
1 tsp. cinnamon 3 c. oats