Today I want to show off this cute apron hanger I made for my two pretty pink aprons. Armed with my hot glue gun, it only took me a couple minutes to put this together. I just grabbed a pretty antique saucer, glued an antique glass drawer pull to the middle, and glued a pretty vintage-looking button to the middle of the drawer pull. I glued some ribbon to the back for a hanger and even fixed a pearly embellishment to the nail in the wall!
I love wearing aprons around the house---not only are they practical for shielding against grease splatters, soap suds, and baby spit-ups, but they also serve as sort of a homemaker's uniform! When I wear my apron, I know it's time for business and it motivates me to focus on the things that need to be done around my home for my family's sake. You will not find me sitting here in my bed, snuggled up with my blanket and writing---with my apron on! Ha!
update: I was blessed to have this post featured by Creative Jewish Mom and Stephanie Lynn at Under the Table and Dreaming.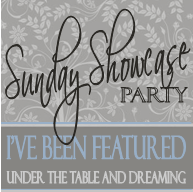 Thanks so much!
I hope your day is happy and blessed today! Are you familiar with my Homemaking Link-Up Weekend? Every week, my blog hosts a little get-together featuring posts you'd like to share. Please link up your favorite posts below and place my button on your blog so your friends can join up too!
Hope In Every Season is on Facebook! If you like what you've read here, please follow me and keep up with the latest posts.
Linking with:
Hope In Every Season's Homemaking Link-Up
Coloradolady's Vintage Thingie Thursday
Show and Tell Friday @ My Romantic Home
Inspiration Spotlight @ DearCreatives
Somewhat Simple
What's In the Gunny Sack?
Metamorphosis Monday
Craft-o-Maniac Monday
Motivate Me Monday
Made with Love linkup @ Sew Chatty
Women Helping Women @ Teaching What is Good
Sunday Showcase @ Under the Table and Dreaming
Beverly's Pink Saturday
Tutorial Tuesday @ Hope Studios
Homemaking Linkup @ Raising Homemakers
Teach Me Tuesday @GrowingHome
Pearls and Lace Thursday
Transformation Thursday @ The Shabby Chic Cottage
Thrifty Things Friday
Weekend Wrap Up @ Tat

er Tots and Jello
Craft Schooling Sunday @ Creative Jewish Mom
Sundae Scoop @ I heart nap time
Tip Me Tuesday

@ Tip Junkie
The Creative HomeAcre Hop @ The Se

lf Sufficient HomeAcre
Saturday Nite Special @ Funky Junk Interio

rs