You might be surprised to know that St. Patrick's Day is my very favorite holiday! There's no one big reason why, in fact I'm not really sure myself. I have happy memories of the St. Patrick's Day festivities in my hometown and I love all things Celtic---maybe I just love having another excuse to make treats. Ha!

I've been writing a series called Great Grandma's Kitchen where I feature recipes that I've found in the big box of cookbooks and recipes that once belonged to my great-grandma and great-great grandma. They're treasures for sure!
Recently, I was looking through a recipe box, trying to find something chocolatey to show off, and I came across several versions of the same recipe. Most everyone is familiar with "Magic Fudge"---the kind where you just mix up chocolate chips and sweetened condensed milk---melt it, chill it and eat it! Well, according to grandma's recipe box, this one has been circulating for awhile under a couple of other assumed names!
This Nestle® version from 1957 is called, Safety Fudge, and involves melting the chocolate chips over hot water (double boiler method) to make it "safe" for children to make. The tag line invites moms to "let junior chefs make it" and suggests adding peanut butter, nuts, raisins, Nescafe®, or gumdrops. Gumdrops? Well...maybe.
A little later version is called 12- Minute Magic French Fudge and was put out by Eagle® Brand. What makes this one "French" is beyond me, but maybe they were playing to a '60s fad.
Here's my version. Maybe someday my great granddaughter will be sharing it with her friends!
Chocolate Vanilla-Mint Fudge

2 c. chocolate chips
2 c. white chocolate chips
14 oz. sweetened condensed milk
1 tsp. peppermint extract
green food coloring
Line the bottom of a square pan with wax paper (I used an 8 inch pan) and set aside. Place the chocolate chips and half the can of sweetened condensed milk in a bowl and microwave/stir until smooth. Pour into the pan and spread evenly. Place the white chocolate chips and the rest of the milk into a bowl and microwave/stir until smooth. Add peppermint and food coloring, stir well, spread evenly over chocolate fudge. Use a knife to swirl parts of the two fudges together for a pretty design. Refrigerate until firm then place on counter until it reaches room temperature. Run a knife around the edges of the pan and turn the fudge out onto a cutting board. Remove the wax paper and cut into squares.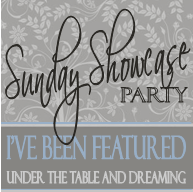 Thanks so much to Stephanie Lynn for featuring this recipe on her Creative
Readers Projects post!
Thanks, also, to Mary at Boogieboard Cottage for the feature!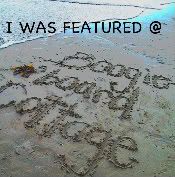 Thank you to Ivy and Elephants for the feature as well!

I hope you'll join me for this week's

Homemaking Linkup

.

I've made a change!

Since it seems my readers like to link up all week long---rather than just on the weekend---I am turning this into a week-long link up party. I will post the new linkup every Wednesday afternoon and the most recent linkup will always be the first post you see when you visit. I still need to have Jamie change the wording on the button so use this one for now and I'll let you know when the new one is ready! I love to feature some of the neat posts that are linked up so please make sure and put my button or a text link on your blog so you'll be eligible to be featured!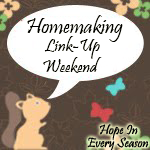 Here are some of my favorites from last week's linkup:
Lori's Valentine's Day tribute to her husband gave me chills and tears. Wow---I hope I remember this when I'm tempted to waste time on trivial things. Take a minute to read her post at Hungry For God; Starving for Time.
Faith Hope Cherrytea linked up these YUMMY looking German Pancakes. I really need to make these! (Don't you love her name, too?!)
Thanks everyone for the great posts!

Now for the linkup. Please remember to return the favor by adding my button or a text link to your post. Have a great weekend!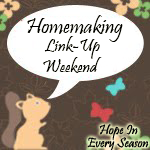 Hope In Every Season is on Facebook! If you like what you've read here, please follow me and keep up with the latest posts.
Linking with:
Thrifty Things Friday @ The Thrifty Groove
Inspiration Friday @ Dear Creatives
Show and Tell Friday @ My Romantic Home
Foodie Friday @ Rattlebridge Farm
Family Fun Friday @ Happy and Blessed Home
Fit & Frugal Family Friday
Link Party Palooza
Saturday Dishes
Show and Tell Saturday @ Be Different, Act Normal
Finding the Pretty & Delicious @ Your Homebased Mom
The Party Bunch
Metamorphosis Monday @ Between Naps on the Porch
Craft-o-Maniac Monday
Motivate

Me Monday
Modest Monday @ The Modest Mom
Living Proverbs 31
Make the Scene Monday @ Alderber

ry Hill
Inspire Me Monday @ Create

With Joy
Masterpiece Monday @ BoogieBoard Co

ttage
A Rou

nd Tuit @ Creating My Way to Success
Monday Funday @ C.R.A.F.T.
Making Your Home Sing Monday
A Return to Loveliness @
A Delightso

me Life
Cottage Style Party @ Lavender Garden Cottage
Teach Me Tuesday @ Growing Home
Tutorial Tuesdays with Hope Studios
Women Helping

Women

@ Teaching What Is Good
(Titus 2)s Days @ Time Warp Wife
The Scoop @Stone Gable